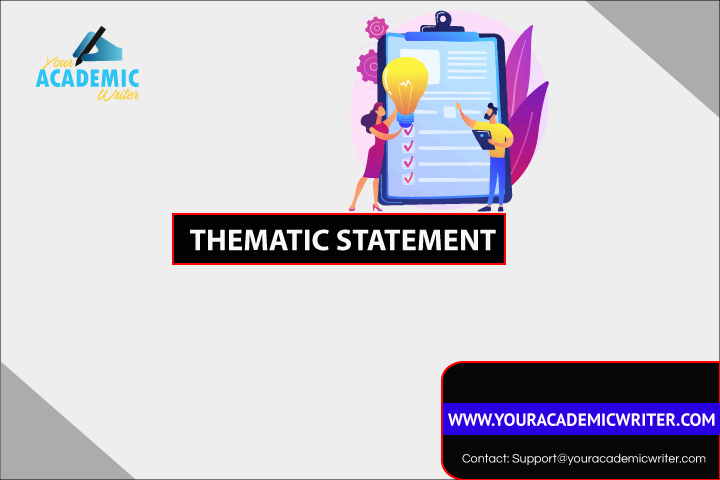 Knowing how to write a thematic statement is crucial for the students of literature and creative writing. Composing a good thematic statement increases the general understanding of the whole idea and helps the writer to convey the main idea in a better and concise way.
For this purpose, writing a thematic statement is an important part of essay writing. If you want to know how to write a good thematic statement, then keep reading the blog. You will be provided with a complete guide and tips on it.
What is a thematic statement?
The literacy meaning of the thematic statement is "composed around the theme"
A theme is the main or central message that the writer wants the reader to remember after reading his work. A large number of stories, dramas, novels, and poems have more than one theme.
A thematic statement is a complete sentence (or two) that states a theme. A thematic statement can be turned into a thesis in a thematic essay.
Need a Paper Written?
Simply pick a topic, send us your requirements and place an order.
That's all we need to write you an original paper.
Thematic statement differs from the theme in a way that can be explained in a single word, for example, the theme of a literary work can be  based on love, revenge, action etc.
You can easily understand the general concept of the entire work by this single word. Whereas, thematic statement is further explanation of the theme where the writer attempts to cover a large-scale topic in one or two sentences.
Example of Thematic Meaning
"I'm here just to ask about the rumors that have been circulating recently."
The part of the sentence that is italicized in the sentence above is the emphasis as well as the thematic meaning of the sentence. Thus, the sentence means that the writer wants to specifically ask about the rumors that have been circulating recently.
Purpose of Thematic Statement
The purpose of the thematic statement is to convey the message to the readers by giving the clear idea of the entire literacy work.  The message when conveyed effectively, satisfies them, emotionally and analytically, and makes them feel like they've gone through a good work.
It also aims to provide the summary of the entire work by keeping the writer focused and clear. As a good thematic statement keeps all the characters revolve around the central theme so there are less chances that the writer can go out of the topic
Characteristics of Good Thematic Statement
A good statement must be general as well as specific. It should be general enough to present the main idea of the work and specific enough to to present a clear interpretation. Below are some points on what makes a statement interesting.
This statement contains a core message, is focused in terms of content and clearly structured.
An interesting thematic statement consists of three components: Message, Reason, and Example.
It is essential to ensure that the statement is not 'overfed' with information and unnecessarily prolonged.
General places are to be avoided. Statement should only express itself if it has something to say and can offer added value.
Even if it is tempting, the brevity and precision of the thematic statement must never be jeopardized by many reasons, additional examples, or awkward language. If a statement is too long, it runs the risk of being ignored or lost purpose. Neither is desirable, so content-related precision is very important.
How to write a thematic statement?
There are no fixed rules of creative writing however some methods are there to follow in order to create desirable thematic statements. Follow the step mentioned below to compose a statement perfectly.
Read Thoroughly to Develop a Perfect Thematic Statement
The first step of composing a good thematic statement is to read the entire work thoroughly. Capture all human perspectives by noticing what is the writing style, what characters are used, and what plots are made. This practice will help in generating an original interpretation.
Identify Conflict Areas
A thorough reading would help you to identify the conflict of ideas. Conflict ideas are in every story and the nature of conflict can be identified by values, motives, and interest of the story.  Identifying main conflicts will also help you to reach the central Idea on which the story was narrated.
Focus on the Core
Automatic statements convey the central message. It is important to focus on the core message without adding extra explanation.  Therefore instead of writing about how and when things happen it's better to just add the end results of what has happened.
Capturing the Gist
So far you would be able to imagine the big picture of your story by following the above-mentioned steps. To make it clearer, start writing a sentence that describes the particular aspect of your story and leave it to rectify afterwards.
No Specifics
It is not necessary to write the details about how things happened. Instead, a Thematic statement gives a clear picture of why things happened.  Explaining the "why" questions give the clear sense of events happening in a story.
Avoid the Absolute Statements
As the thematic statement is a one-line concise statement, it should avoid the absolute aspects of the story that are already clear and do not need any explanation. However, you can use this statement where you really need them, following the condition that it should make sense.
No Moral Edict
Keep your thematic statement in correspondence to the original idea. Do not transform and add moral edict in order to make it more presentable. Adding moral edict in the thematic statement, which is not originally present in the main idea would alter the complete meaning and you would end up in making a wrong thematic or a thesis statement.
Avoid Clichés
A thematic statement should not be a copied sentence from the original work. Rather, it should be the original expressions of opinion instead of using famous punchlines.
Things to Avoid While Writing a Thematic Statement
Most writers make mistakes while writing these statements. Following are the mistakes which they make. Always keep in mind these mistakes and avoid making them.
It Is Not a Moral, Command or A Directive
Sometimes in order to present more decent text authors attempt to add moral values to the theme and hence lose originality.  Themes are not made to judge what others' actions should or should not be.  Writers should only take the general perspective of the person's behavior and state it as it is.
It Has No Trite Sayings
Purpose of the theme is to express the complexity of life enriched in  literacy.  That's why it is very important for these ideas to be original and thoughtful by avoiding clichés or aphorisms.
Avoid Referring Particular Names or Events
Writers often confuse the idea of summary and statement.  Thematic statements are never meant to summarize the work, instead they only represent a general idea of what happened. Therefore, writers should avoid referring to a particular name or event in order to explain the details of the story.
Avoiding Absolute Terms
Writers often add absolute terms in composing a statement, which shows the poor reasoning. Therefore, writers should avoid using the absolute terms and rely on their own words while writing a thematic statement.
Don't Be Obvious
The obvious phrases like "peace is better than war" should not be added in the thematic statement.  As these statements are already obvious for the readers and it makes no sense in adding it into the central theme.
Instead, the explanation or reasons like "why is peace better than war" or "what makes peace better than a war" or "its impact on different characters" should become part of the central theme.
Don't Make It Advise
Try not to make your statement sound like advice.  It should be objective and completely based on strong evidence from the work.  As the thematic statement has nothing to do with morality, it's just the statement around which the story revolves.
Thematic Statement Theme
Six common themes of literacy are:
Good vs Evil
Love
Redemption
Courage and Perseverance
Coming of Age
Revenge
Examples of Thematic Statement
Following are some examples of thematic statements:
The man of true character never take part in hypocrisy no matter what
Pride is the way of finding true love
Love is the most misunderstood language, still loved by every human being.
If the method logic system of mind is in control it originates the absolute power on which human fear and weakness are based.
Hope this article was helpful enough to guide you about how to write a thematic statement. But if you are still confused and do not know how to proceed then you can always take help from a 'write my essay' service.
Our expert writers take it as a pleasure to help students in their essays and assignments.  Whether it's essay writing, Speech topics or research papers for composing thematic statements, our experts know how to do it efficiently.
All you need is to place an order and let our professionals make the work perfectly done for you.
If you still feel like you could use some help with your essay, do not hesitate to seek help from our professional essay writing service.
Our expert writers specialize in a wide range of college essays of different types, and would be more than happy to assist you with writing, editing, or direction if you are feeling uneasy. We process all "write essay for me" requests fast 24/7.