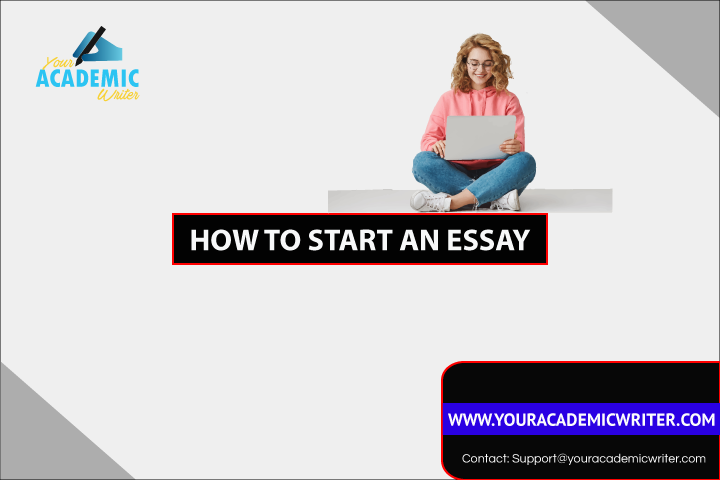 Wouldn't you feel great if your essay is being read from start to end? What approach would you use to write such an essay?
Well, It's quite a goal! The art of writing.
If you pay attention to details, you would know that writing the start of an essay is the most important part. It's the introduction! The opening line! Introduction seems to be a small part of your 2000 words essay but your whole essay depends on how catchy your start is. This is the point where the reader decides to read the rest of the essay.
You need to grab your reader at this stage, otherwise you would lose them. It does not matter how informative your essay is if it has a boring start, no one would read further and would never reach the information that you have provided.
If you want to write effectively and interestingly, you need to learn how to write "beginnings"
Let us show you how!
In most cases, you will have specific instructions for writing your essay. If instructions are there follow them, but if not then there is no fixed rule for starting an essay. Normally, the essay comprises of three parts:
Introduction: Where you briefly define your topic and give background information and also the purpose of writing.
Body: It's the main structure of your essay which includes details and explanations.
Conclusion: It's the summary of your essay, no new information is mentioned here.
Once having selected the topic, start your essay by creating a hook statement.
Create a Hook
The catchphrase is your first way to grab the reader's attention. It can take the form of a question, a quote, a fact, an anecdote, a definition or a funny story. To achieve your goal, write a catchphrase that sets the context and encourages the reader to continue reading.
For example, you can start an essay on the need to research alternative sources of energy with the phrase "imagine a world without polar bears". It's a brilliant statement that brilliantly presents an animal that the majority of readers know and love, namely the polar bear. Thus, you also encourage the reader to continue reading to learn the reason for imagining such a world.
Need a Paper Written?
Simply pick a topic, send us your requirements and place an order.
That's all we need to write you an original paper.
You may not have a hook. Don't stop though! You can always put this question off and come back to it once you've finished writing your essay.
How to Start an Essay Introduction?
As mentioned before, the introduction is the most important part of an essay, because it can either grab the reader's attention or elicit indifference. A good introduction will give the reader enough information about your text to make them want to read on.
Place your hook at the start of the introduction. Then, move from general ideas to specific ideas until you build your thesis statement.
Keep your first line simple and short. It increases readability and help readers digest the information you are providing
Background Information
Once you hooked the reader, now it's time to introduce your topic. In general, the introduction includes background knowledge that can support the significance of your topic.
It is wise to be careful, do not stuff your background information more that the reader requires at this stage. As extra information, or information given in detail or broad is not necessary at this stage.
Thesis statement
This statement is used to clearly present your opinion or argument. It is usually placed at the end of the introductory paragraph. In an essay, it is especially important to present a clear argument so that your readers can understand precisely the position you are making. 
Different Ways to Start an Essay
You should consider these essential elements to start writing an essay. By general rule there is no fixed rule of starting an essay.  Here we tell you three best rules by which you can start writing essays.
How to Start an Essay With a Question?
One of the most effective ways to grab a reader's attention is by asking a question. A question instantly makes the reader start thinking about your topic.
Sometimes, while thinking, readers already develop an idea about the answer and are curious to know what the author has to say about it. In this way, the reader is interested and will read to know the author's opinion.
How to Start an Essay With a Quote?
This is the simplest yet effective way to start an essay. There are thousands of quotes about almost everything on the internet. Writing a quote at the start of the essay also helps grab the reader's attention.
But before choosing a quote, make sure you have selected an authentic source and quote credibility is valid. The quote must be relevant to your topic and is not saying anything out of context.
How to start an Essay With a Fun Fact?
Starting with a fun or an interesting fact is the best choice you can make. It enlightens the whole essay and has a refreshing impact on the overall context of your essay. It's a good way to start your topic on a lighter note by then gradually building your base and then go in depth.
If your topic is serious and you cannot start with a funny fact then starting with statistics is a good choice. There are multiple sites on the internet which give you statistical information about any topic, as showing statistics is also a good way of grabbing attention.
How to Start an Essay Conclusion?
A conclusion provides a final perspective on your topic, concluding the topic and summarizing your overall ideas.
Your conclusion should consist of 3-5 strong sentences. In short, re-examine the key ideas outlined above and support them in a stronger, more concise tone.
After writing your conclusions, you'll probably think you've finished your essay. But this is wrong. Before finalizing your essay, you need to pay close attention to every detail.
Mistakes to Avoid While Writing an Essay
Knowing about "the don'ts" is as important as knowing about the "do's".
So far you know what are the right things to begin with. So, the next is to know the following things which you should avoid while writing an essay.
Try not to start your sentence by a direct definition. As it makes the text too obvious and boring.
Resist the urge to use high-sounding words to sound like a scholar. Instead, use precise and clear vocabulary.
Be sure to present the positive side of your arguments without changing your perspective or contradicting yourself.
Give importance to each of your sentences. Adding extra sentences will not help you get your point across. Keep your text clear and concise.
Don't use personal pronouns like I or you. Thus, you will avoid giving your text a personal touch.
Get Professional Help From Experts
Hope this article was helpful in letting you know the tips and ideas on how to start an essay. But still if you think you need professional help, you can reach us anytime. Just place your order and get your essay done by experts.
Whether you need to make an outline of an essay or want to get a complete essay done. Our professional "write my paper" service would handle these matters for you.
If you still feel like you could use some help with your essay, do not hesitate to seek help from our professional essay writing service.
Our expert writers specialize in a wide range of college essays of different types, and would be more than happy to assist you with writing, editing, or direction if you are feeling uneasy. We process all "write essay for me" requests fast 24/7.