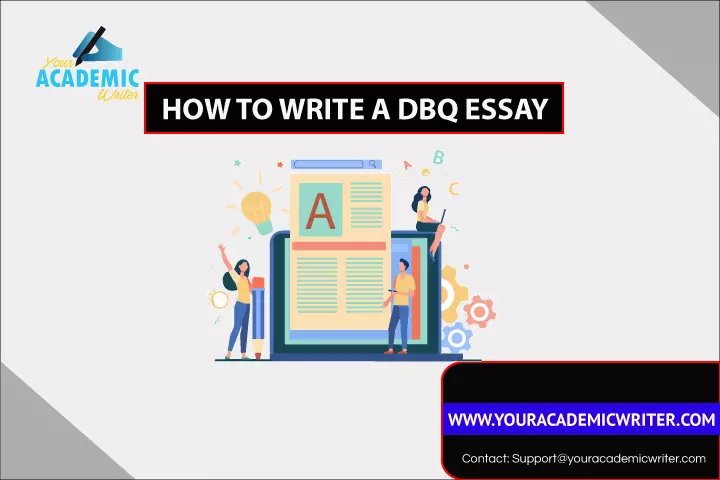 The DBQ (document-based question) is a timed essay in a very unusual format on the AP History exams. It can be used for AP American History or AP European History. Many students are unaware of the DBQ format and don't know how it works. Let's learn how to write a successful DBQ essay for test day.
Don't be afraid! YourAcademicWriter.com has a plethora of preparation strategies and tips for your exam.
After reading this guide, it will be clear how to create a perfect DBQ essay.
What is a DBQ Essay?
You should take as many Advanced Placement courses (AP) as possible as you prepare for college. These courses offer a challenge and can help you earn college credit. This can be a time-saving option. To get college credit, however, you must pass the AP exam. This may include a document-based query (DBQ).
Need a Paper Written?
Simply pick a topic, send us your requirements and place an order.
That's all we need to write you an original paper.
What is the Purpose of a DBQ Essay?
A DBQ (or type of essay question) requires you to respond in several paragraphs. These DBQs will require you to use historical documents in order to analyze a trend, or an issue from the past. You can typically find five to seven documents in each DBQ. These documents can come from primary or secondary sources such as maps, newspapers, and letters.
Essentially, answering a DBQ is a way to use all of the skills that you have learned in AP classes and become a historian. You will need to show that you can:
Examine the context of the documents, including the author's perspective as well as the target audience.
Make connections between documents.
Make a strong thesis statement, and then analyze the documents to support it.
To build a stronger case, use your historical knowledge.
DBQ Essay Outline
It can be challenging for newbies to learn how to write a DBQ essay. Our professional writers have provided the DBQ format to help you prepare for the exam. This format is similar to all essays and includes an introduction, thesis statement, body, and conclusion.
Introduction
The introduction includes a hook sentence that will grab your audience. It also describes the background of your topic. This can be done by referring to a historical event or figure.
Thesis
The thesis describes any claims in your paper that can be supported with evidence. This can be written as a short description of the evidence you will include in the body paragraphs. For the thesis statement, you need to write a paragraph about the DBQ essay question.
Body Paragraph 1
It includes the strongest argument. This argument should be related to the thesis statement. It presents an analysis of all references that relate to the strongest argument. Body paragraph 1 includes the statement that concludes the analysis from a different perspective that is required.
Don't forget to include a link back to the thesis. Also, add a transition sentence between the body paragraphs.
Body Paragraph 2
Include a rational argument that links to the thesis and the first argument in each paragraph. Body paragraph 2 has an analysis of all references that relate to the strongest argument. It also contains a statement that concludes the analysis from a different perspective is required.
Include a link back to the thesis. It is better to add a transition sentence between the body paragraphs.
Body Paragraph 3
In this paragraph, a rational argument is presented that links to the thesis and the second argument in paragraph 1. It also includes an analysis of all references that relate to the strongest argument.
A statement that concludes the analysis from a different perspective is required that includes a link back to the thesis. You need to add a transition sentence to your conclusion.
Conclusion of DBQ Essay
It's the summary of the entire paper, including the most important points and information in the sources. A concluding sentence, question or statement that challenges the view of these sources should be made.
Step By Step Instructions for DBQ Essay
Writing a DBQ essay can be difficult for some students. Don't worry. These easy-to-read instructions will guide you through the most important points. They include how to write a DBQ thesis and analysis. To achieve the best results, it is important that you follow the DBQ outline when writing your paper.
The DBQ Essay includes:
Planning in 15 minutes
Writing takes 2 hours and 45 minutes
Proofreading takes 10 minutes
This type of exam requires time management to achieve a high grade. According to the DBQ, the time required for each question is three hours and fifteen minutes.
You should spend around 15 minutes planning, 2 hour and 45 minutes writing, 10 minutes proofreading, and about 15 minutes planning. These easy-to-follow steps will help you write a DBQ conclusion, body, and thesis.
Step 1: Planning (15 Minutes)
It is crucial to read the sources before taking the exam. It takes 3 hours to complete the exam so you should plan for 15 minutes. Analyze all key points in the provided sources during this time. Next, make a list of key points and then write them down under the titles: introduction, thesis and body.
Step 2: Introduction (5 Minutes)
First impressions count. Keep the introduction brief and to the point. Do not go directly to answering the question. A brief summary of the entire paper is necessary for a good introduction. A short introduction sentence is important.
Step 3: Thesis (20 Minutes)
For the DBQ thesis, this essay must be separated into 3 paragraphs. The evidence that supports the claims in your paper should be described. The second paragraph should describe the paper.
The third paragraph should describe how you will answer the question.
The main difference between other essays and the thesis is that it plays an important part in the DBQ structure.
Two sentences should be sufficient for the APUSH DBQ thesis.
Your thesis should not exceed 2 to 3 paragraphs in length.
Step 4: Body (2 Hours and 15 Minutes)
Make sure to write well-organized, categorized paragraphs. Each paragraph should contain one point. Do not mix ideas between paragraphs. Attach the documents that answer the question. It is important to read between lines. Every paragraph should be linked to the thesis.
Step 5: Conclusion (10 Minutes)
Your paper's conclusion is the final section. Your conclusion is crucial in convincing your audience. Poorly written conclusions can lead to skeptical audiences. Summarize the entire paper to create a well-written conclusion. The conclusion should be linked to the thesis. Answer the question in a conclusion sentence.
Step 6: Proofreading (Approximately 10 Minutes)
At the end of each exam, spend around 10 minutes proofreading. To ensure that your work is error-free, proofread it. Writing errors can reduce one's grade. The body paragraphs must answer the question and link back to the thesis. This is the most important section of the paper.
DBQ Essay Writing tips
We have provided a lot of information to you so far. Here are the main takeaways.
Do not forget to prepare: Create a baseline, build skills, practice DBQs, and repeat the skill-building if needed.
You will be able to remember all points on test day if you are well versed in the topic. You can easily lose points if you forget your wrap-up point.
Keep on time the day of your test
Although it may seem daunting, you can master your DBQ. You can achieve the score you want by combining preparation with a solid test-taking strategy. You will find that every DBQ feels more natural the more you practice it.
Conclusion
It is a great way of learning how to write a DBQ essay. Writing tips are also important. For a positive outcome, time management is key. Our advice will help you get a high grade.
It is important to learn the DBQ format. For any type of exam, practice is essential. Without practice, it is impossible to perform as well as one's potential.
How to Get Qualified Writing Help
If you are still worried and have no time to write a DBQ essay. Don't worry!
We are here and available 24/7 for your help. Our 'write my essay' service allows you to quickly find custom essay writers. Expert essay writers know how to craft an excellent DBQ essay. Each essay that we send is 100% original.
Don't wait and place your order now!
If you still feel like you could use some help with your essay, do not hesitate to seek help from our professional essay writing service.
Our expert writers specialize in a wide range of college essays of different types, and would be more than happy to assist you with writing, editing, or direction if you are feeling uneasy. We process all "write essay for me" requests fast 24/7.