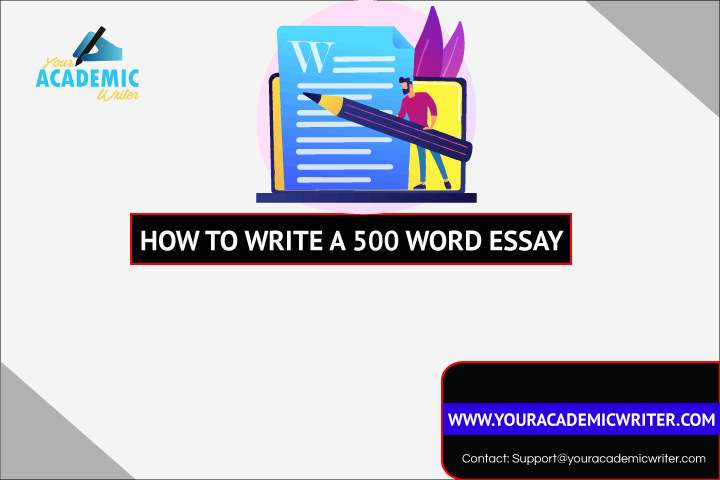 Writing an essay is creating a meaningful whole by bringing together different elements. Writing a 500 word essay has entered the lives of students since the fourth grade, has taken place as a subject in its own right in many exams, and in this way, it is aimed at students expressing their thoughts on a certain subject within the framework of spelling and spelling rules.
It's the most commonly used format that the students at schools and colleges follow. Normally, 500 word essay writing is quite complex as compared to writing a 1000 or 2000 word essay because you don't have much room for anything other than the main essence of the essay, where you have to precisely cover all essential points in limited words.
In schools, students are asked to write a short essay as an exam question or it can be given as homework. So, how to write a 500 word essay?
Here are all the details on how to write it, its rules and examples.
500 Word Essay Definition
It is a type of writing that is shaped around certain rules and needs to be carefully considered, also called a short essay. Generally, it is assigned to students at their early stages and the purpose is to teach them the basics of writing. Students, who can effectively write a 500 word essay, can easily write long essays as well.
Any type of essay either its Persuasive or Descriptive, Argumentative or Expository and even Narrative can be written in 500 word essay writing format. Once you learn how to write an essay in 500 words, you can easily write an essay of any length with ease.
500 Word Essay Format
A 500 word essay can be written within the framework of various rules, as in all other writing types. It has different styles, structures and topics so it would be difficult to give one generalized rule on how to write a short essay.
Need a Paper Written?
Simply pick a topic, send us your requirements and place an order.
That's all we need to write you an original paper.
So, one of the easiest ways to consider it as a chance to speak your heart instead of considering it as an academic assignment.
The most basic information to know about the 500 word essay is that it consists of 3 basic parts. These can be considered as
Introduction
Body
Conclusion
These three parts are essential for any kind of essay, as no essay is completed without these basic parts. However, for longer and detailed essays there comes more subheadings added under these basic heads.
Here, each section has a different purpose and a particular word count. "Times new romans" font style in size "12"in double space is universally accepted.
How To Write a 500 Word Essay
A successful essay is based on orderly thoughts. This is why structuring your essay is so important. It's better to outline the main points as you write your essay, in this way you have a working format, you are better able to put your thoughts in writing within limited words.
Once you are done with creating the outline, follow steps will lead you in writing a good short essay.
Write a Good Introduction
The introduction should hook the reader. There are several options to use when trying to grab attention, including the following.
Shocking Information: You can open your introduction with surprising details to alarm the reader and attach importance to what you have to say.
Anecdote – A simple story can also serve the purpose because it offers a different perspective and makes your essay easily recognizable. If you choose the anecdote option, keep it simple and straightforward and make sure it's relevant to your subject.
Summary Information – Using an essay summary for your introduction provides an easy way to write an introduction. All you need to do is give an overview of the essay with each subsequent line more specific until you get to the thesis statement.
The thesis will come as the last sentence in the introduction. Regardless of how you decide to shape your beginning, remember to make it short and relevant to the thesis.
Compose the Body Paragraphs
The central part of your essay is the body. This is where you present all of your main ideas. The essential parts of this section are:
Topic sentence
Supporting evidence
Transition statement
Each of the main ideas in the outline you created are isolated in their paragraph. The first paragraph should contain your strongest argument. Consider it as the second anchor after your thesis statement.
The first sentence of each paragraph should be a topic sentence. The topic sentence should address the main idea. Subsequent sentences should then elaborate on the idea with examples. This structure will be the same as used by the rest of the paragraphs in the body.
Draft a Conclusion
This is the last piece of the puzzle. It is always good to close well. The conclusion should not contain new information that you have not raised elsewhere. You should also try not to copy / paste your introduction.
Since it is the last section that will be remembered the most, the reader should be impressed and the essay should be concluded with meaningful sentences.
The conclusion section should be kept as short as the introduction and the main idea of the composition should be conveyed to the reader in this section.
Writing a 500 Word Essay
Many questions come in your mind when you start writing a short essay, like:
What should be the length of a 500 word essay?
How many paragraphs are there?
How many pages are there?
How long does it take to write a 500 word essay?
What should be the length of a 500 word essay?
On MS word a 500 word essay makes 1 to 2 pages. It completes in 1 page if it is single spaced. And completes in 2 pages if it is doubled spaced.
To decide about spacing, follow the instructions given by your professors.
How many paragraphs are there?
There are 5 paragraphs in a standard 500-word essay template. One paragraph is reserved for introduction, one for conclusion and three paragraphs for the main body. This standard format must always be followed for writing a 500-word essay.
Similarly, word count is also divided evenly in 5 paragraphs. 100 words for introduction and 100 words for conclusion, whereas 300 words for main body.
How long does it take to write a 500 word essay?
It completely depends on your ability and speed to write. But generally, on average, it takes 1 hour and 45 minutes to complete a 500-word essay including research.
Reserve 45 minutes for doing research, developing structure and making an outline, rest 1 hour is enough to finish writing.
Tips for writing a 500 word essay
Here are some tips for writing short essays.
Make every word count. Instead of using high-level vocabulary, use simple and easy to understand words.
Be very clear. Even if you don't have a lot of space, you still have to make your point.
Cut the fluff. Yes, it's nice that the hotel room has a marble tub, a gold faucet, and thick carpet. In a short essay we don't have the space for all of that.
Focus on the central conflict as you don't have time for secondary points.
Start with a bang. Get the problem or incident incitement right away. Get your reader right away.
Choose your point of view, time and stick to it.
Put your paragraphs in the right order and make sure it makes sense. It should read smoothly.
500 Word Essay Topics
Should use of gun be banned around the world
Education should be free for the poor.
No one should question a rape victim
Java is an obsolete language now. Why?
My idea of a perfect day
Is mental health a real issue?
What are the reasons of teenagers committing suicide?
What are the effects of Facebook on teenagers?
Hire an Expert to Write a 500 word essay
Follow this step-by-step guide and learn how to write a perfect essay. But if you still think you need more help, you can reach our "write my paper" service anytime.
We have a team of experts, who provide well founded paper writing services that you can trust for getting any type of paper done in no time. We deal in writing academic research papers, article writing and essay writing.
Place your order now and get your customized and perfect essay at an affordable price.
If you still feel like you could use some help with your essay, do not hesitate to seek help from our professional essay writing service.
Our expert writers specialize in a wide range of college essays of different types, and would be more than happy to assist you with writing, editing, or direction if you are feeling uneasy. We process all "write essay for me" requests fast 24/7.